The DUPLEX system
The combination of zinc and varnish coatings in the DUPLEX system substantially contributes to extending the life of WIŚNIOWSKI fences. Regardless of the weather, you can always be sure that WIŚNIOWSKI fences will keep their appealing look.
The gates are available in a hot-dip galvanized or a galvanized and polyester coated version. The gates are available in the following colours as standard:
RAL 5010, RAL 6005, RAL 7016, RAL 7030, RAL 9016, RAL 9005/MAT.
The product is covered by a 5-year corrosion protection guarantee.



Gate leaf
Structure made of welded 60x60mm sections. The leafs constitute a folding system and are connected with nodes seated on rolling bearings. Fastening elements and linkage joints are made of stainless steel. The leafs are fitted with stainless lead covers. A catcher with a roller is mounted in the middle of the gate, and for gates over 4,500mm, a magnetic armature is fitted as standard. The gate is available in a double-leaf and a single-leaf (left or right) version.
Gate post
Each gate is supplied with load-bearing posts made of a 160x160mm section. The gate posts are fitted with base plates reinforced with ribs. The base plates are pre-drilled for M20 anchor installation.
CAME drive unit
The TRAFFIC high-speed gates are paired with the CAME Ferni F1024 automatic operating units. The drives are controlled by the CAME unit installed in a box with an IP65 rating.
The gate opening speed is about 0.6 m/s . The gate is intended for up to 250 operating cycles per day.
We guarantee efficient operation in temperatures from -20 to +55 °C
The automatic operating units are installed in the top section of the load-bearing posts. Torque is transferred to the leafs through a folding arm system and a linkage system.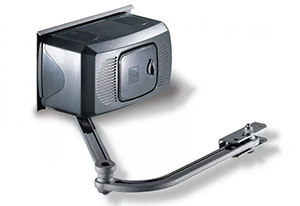 The Traffic gate is available in two specifications depending on the required security system accessories
Totmann (key switch integrated with the emergency stop, warning light, control unit, two actuators) or Automatik (key switch integrated with the emergency stop, warning light, photocell kit, two safety edges on the face edges of the leafs, two two-channel transmitters, radio, control unit, and two actuators)